Floating Floor - Laminates & Hardwood Timber Floor
A Floating Floor is a floor that does not need to be nailed or glued to the subfloor.
Floating Floors generally take the least amount of time to install as many
are constructed in wide panel type.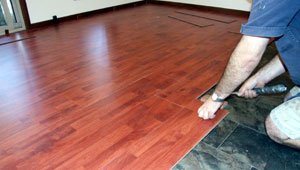 They are installed by gluing the tongue and groove, or have "click together" that requires no glue., and are not mechanically fastened to the sub floor.
Most floating floors can be installed over most (flat - well secured) ceramic tile, concrete slabs, vinyl flooring, and be installed where there is a slightly higher moisture content, like over slabs with the use of a vapour barrier such as 4-6 mil plastic and foam pad, and in tropical regions of the country. Floating floors are ideal for those that have multiple floor coverings that may be too troublesome to remove or may contain asbestos.
Advantages of Laminated Flooring:
less expensive than solid wood flooring

easier to install

low maintenance

practical for everyday use

wear resistant

easier to clean

less problems of expansion/contraction
Looking from a dust stand point you can expect some from the undercutting of door casings or the minor prep of subfloors, depending on the condition of them. Preparation work would include the scraping of concrete subfloors and possible grinding if some higher areas are not suitable for a successful installation. Furthermore it may become necessary to "fill" low areas with a fast drying patching compound.
For wood sub floors it may be necessary to sand down some high areas with the use of a belt sander, edger, or planer. These areas are typically where floor joist systems or plywood sheets meet.