Timber Flooring - Wood Flooring
Wood Flooring should be fitted by an experienced fitter!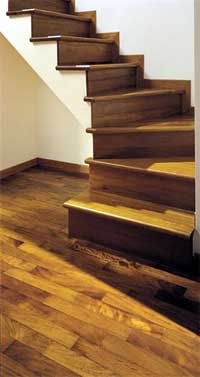 Wood or timber flooring is a great asset to your home by enhancing its beauty and raising the value of your property. Timber flooring is very neutral in colour and style so it always compliments the current decorating trends. Wooden flooring can be protected from damage such as stains, moisture and mechanical wear with a range of finishes. It is the most practical of all floors - solid, elegant, durable, beautiful, natural, easy to clean and hygienic.
Solid Wood Flooring creates a warmer living environment.
Oak, Birch, Beech, Ash, Iroko, Maple, Walnut, Merbau, Cherry, Bamboo and many more woods are available.
A scattering of knots, variation in grain and colouring adds character to the floor and sets it apart from less expensive mass produced laminate flooring.
Depending on your requirements, we can supply and fit pre-finished or unfinished wood flooring.
Pre-finished - This is factory finished
advantages - faster installation with less disruption

disadvantages - it lacks a continuous surface finish
Unfinished - Floors must be sanded and sealed after fitting but this is the best option for hardwood flooring
advantages - provides continuous surface finish and is most hygienic

disadvantages - requires extra time/inconvenience and may incur some additional expense
Hardwood flooring can be supplied featuring long lengths, wide boards, narrow boards, random length, block, herringbone, rustic, modern, wavy boards, hand distressed and micro bevelled (for more visible joint to add character).
A variety of finishes including fumed may be used to create different effects.
Due to the nature of wood, characteristics including grain pattern, knots and colour vary from board to board and within each board.
Solid woods come with a guarantee!